What our clients are saying
With LeadingResponse, I now have a growing practice with a predictable marketing plan and a proven system that as long as I follow it I am confident more success is inevitable. Financial Advisor, Texas
"The webinar resulted in successfully scheduling 20 one-on-one appointments for estate plan review!"
– Estate Planning Attorney, Minnesota
"Wow! We got a 52% appointment conversion from webinar attendees that brought our business over $2.1M in new assets."
– Financial Advisor, Alabama
"Our webinar successfully converted two new clients and over $500,000 in new assets. Thank you!"
– Financial Advisor, Wisconsin

Get faster results, increased prospects, & improved ROI.
We've cracked the code to generating high-quality, motivated prospects – consistently. Now is the time to plan and prepare for transformative growth.
Dynamic marketing solutions put you in front of highly qualified, motivated prospects.
Marketing strategies have changed, and so must your business. Our team has the experience, knowledge, and expertise to get you in front of the right prospects, in the right way, at the right time.
Expanding your business is easier when you work with an experienced partner. The LeadingResponse financial team, led by Jerry Lanier, has over 25 years of industry experience. Our marketing solutions are backed by years of experience, proven techniques, and successful strategies that put you in front of the ideal audience.
Running a successful financial business is challenging. Our marketing solutions can put you in front of more prospective clients and increase your bottom line. As the experts in consumer engagement in your industry, we're here to provide coaching, guidance, and feedback that can propel your success.
Learn how our marketing solutions can boost your financial business and revenue
For more information, please fill out the form or call Scott directly at 813.885.8239
Our results speak for themselves
6.4 Million
Appointments Generated for Financial Advisors
Over 1 Million
Events Managed
1.53 Million
Consumers Connected with Financial Advisors Every Year
Over 90%
Webinar Attendance Rates
$117 Billion
in Revenue Procured With the Help of Our Programs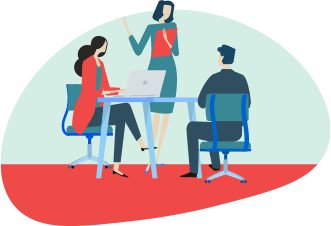 Our process
Dynamic marketing solutions, featuring both traditional and digital strategies, can put you in front of highly qualified, motivated prospects.
Engage
From digital ads, to direct mailings, to webinars – our multi-channel marketing solutions put us where your future prospects are.
Diversify
Using every major online and traditional marketing channel, our team initiates contact with your consumers and ensures the right fit with your business.
Target
Attract the right prospects, every time. Matching your specific criteria, we target and engage the best leads to grow your organization.
Pre-qualify
Save time and money. Our team confirms needs and financial status, based on your criteria, before connecting them with you.
Connect
Marketing strategies have changed. Our team can put you in front of the right prospects, in the right way, at the right time.
2021 Planning Guide Start planning now to make the second half of 2021 the most financially successful year yet. Our team of experts have compiled a calendar and worksheet for financial advisors for successful 2021 planning. Download your copy now for recommendations on seminar and webinar schedules, multi-channel marketing solutions, and a client acquisition worksheet to help you outline attainable goals for your business. With over 25 years of marketing solution and client acquisition experience, LeadingResponse can turn high-income prospects into quality appointments for you. Get started now.
Top Marketing Tips for Financial Advisors Now is the time to grow your business for the future, and we have the marketing tips to help you get there. Learn how to communicate effectively within your community and build the trust of prospects. Avoid typical marketing pitfalls, increase your success, and put our 25 years of experience to your advantage. Download your copy now and learn valuable marketing tips that ensure you're sending the right message, at the right time.
LeadingResponse's Webinar Solution: WebinarConnect Reach Prospects Anytime, Anywhere, with our Proven Client Acquisition Platform. People want to choose where and when they connect. Reach them with WebinarConnect, our seamless, branded experience that amplifies your client acquisition efforts. Record a webinar once, and prospects can access it at any time, allowing you to capitalize on client acquisition 24/7. For an overview of this versatile online solution that can help grow your business, download our WebinarConnect brochure today.
Targeting Younger Workers Expanding Your Client Base to Include Younger Adults Can be Worth the Effort. Workers in their 20s, 30s and 40s are in the process of accumulating wealth, investing in retirement, and prioritizing financial security. Download our infographic for information how to attract, connect with, and cultivate younger clients and let us help you grow your business.
The Credibility Game Plan: How to Precondition Prospects to Hire You Before They Meet You
Instead of chasing after "more leads", learn how to structure your message so ideal clients chase after you. With a few subtle shifts in how you present yourself and your message, you can create a steady flow of qualified prospects booking appointments with you. And when you reframe their thinking, you'll be able to precondition them to hire you before they meet with you. Then they'll tell others about their experience with you and refer you to their friends. The Credibility Game Plan is a structured approach you can use to gain more clients, get more referrals, and grow your revenue.
How to Speak in Front of a Live Audience Joint webinar with LeadingResponse and Joel Weldon
How would you feel if you had a problem for 26 years and after searching for a solution you finally found the answer? Most likely you'd be overjoyed. For the last 26 years, we have marketed over a million seminar events. We have put the right people in the seats and filled the rooms. The problem has been, once the advisor began speaking, there was nothing more we could do. Having sat in on hundreds of these events it was obvious that the presentation effectiveness determines the results.
Attendees will learn:
1. The importance of the first 60 to 90 seconds will grab the full attention of your audience and hold it throughout your presentation.
2. Creating a specific message that speaks to the needs and concerns of your audience?
3. Creating a power close that helps you generate a 40%+ appointment rate.
How to Present in a Virtual Event Joint webinar with LeadingResponse and Joel Weldon
Over the last year, LeadingResponse has hosted over 1,000 webinars. Many advisors find it hard to replicate the energy and excitement of presenting to a live room of people vs. a computer screen. During this presentation, Joel will cover the power of talking to only one person in your audience, effective openings, powerful closings, and much much more. Join us for this webinar to supercharge your online presentations.
Attendees will learn:
1. Creating a powerful and impactful online presentation.
2. The power of your words and how adding 1 word will change everything.
3. Why there's only one person in your audience that you're talking to.
Bill Good Webinar: The Seminar Success Zone: 7 Ways To Turn Your Seminars Into a Money Machine​​​​​​​ Seminars and webinars ARE working today, but only if you know the formula. LeadingResponse is proud to join special guest, Bill Good, CEO of Bill Good Marketing, for a live webinar event where we will uncover 7 key factors to help you supercharge your seminar results with better attendance, increased appointment-setting, and unbeatable ROI.
For three decades, Bill Good has helped countless advisors create their own seminar money machine.  He has personally delivered over 1000 in-person seminars and at least 500 webinars.
Who Should Attend?
☑ You are a seminar veteran and want to improve your game.
☑ You did seminars in the past, some profitable, others perhaps not.
☑ You are interested in the hybrid model—one mailing promotes two seminars and one webinar.
☑ You are a "one and done"—you gave a seminar, it failed, and you threw in the towel.
☑ You are considering webinars—can they be profitable?
Breaking Through: How to save time and get faster responses with email Joint webinar with LeadingResponse and Mindset Digital
Today's clients get 147 emails a day on average—and read most of them from a mobile device. Beyond a jam-packed inbox, they also struggle to keep pace with too many texts, too many Zoom meetings, and way too much to do. 
Marketing Survival Guide: Refining Your Process to Drive More Appointments Joint Webinar: LeadingResponse and Mindset Digital
Advisors today are faced with enormous challenges trying to prospect for new clients. The pandemic has rendered many traditional marketing methods ineffective, and many are looking for answers. Discover how LeadingResponse can help you.
Leveraging LinkedIn: How to Build Powerful Connections with Clients in a Virtual World Joint Webinar: LeadingResponse and Mindset Digital
Virtual is today's new reality. So how do you effectively manage client relationships and do business online? By tapping into the power of the world's largest professional network, LinkedIn. The rules of engagement have changed—fast. 
We've promoted over one million marketing events for customers since 1995
That's an average of 3,000 events a month, and a database of over 22 million baby boomers. We mail an average of five million hyper-targeted direct mail pieces monthly to consumers aged 55 and up.
Our exclusive lead model delivers inquiries that are four times more likely to convert than those of our competitors.
Competition is fierce, and the marketing techniques you've used in the past won't work with today's pre-retirees and retirees. Connect with us to learn how our marketing mix can grow your financial business and increase your revenue immediately.